Hi all you wonderful readers – It was an effort to get this newsletter out because I am in my 11th day of being sick with a painful bacterial infection of my leg called cellulitis. After a couple of short stints in hospital and some home nursing from the hospital, I am slowly on the mend at home with antibiotics. I know some of you are in lockdown because of covid. Not an easy situation but I wish you all the best and hope you can take some time out to read.
Announcement My new book Secrets and Lies: The Shocking Truth About Recent Aboriginal History, A Memoir, is available on Amazon for 2.99 US as an ebook. The print book will be available from my website for Australians or from Amazon worldwide. Here is the link – https://www.amazon.com/dp/B095SDW3LY
I would love some reviews on Amazon please and for you to share about it on social media. IRealesedon 3 July, it has been no 1 best seller in a number of categories and no. 1 new release in a lot of categories – Civil Law, Public Law, Constitutional Law Discrimination, International Treaties, Sociology of Race Relations, Civil Rights, Australian and NZ History, Australian and Oceanian Politics, Study and Teaching and Education Reference.
I have done interviews with Cairns ABC, The Cairns Post where it was front page as well as inside, Torres Strait Islander Radio, Bumma Bippera Radio and National Indigenous Radio Service and Vision Christian Radio. Below are photos of me with my new book banner outside Munganbana Aboriginal Art Gallery and my article in The Cairns Post. Norman photocopied it with the QR code to my website
BOOK OF THE MONTH
God is Good for You: A Defence of Christianity in troubled times by Greg Sheridan, foreign editor of The Australian newspaper.
At a time of crisis for Christianity in the West, God is Good for You shows just why we need faith in our world.
The Judeo-Christian tradition has created and underpinned the moral and legal fabric of Western civilisation for more than 2000 years, yet now we've reached a point in both Australia and many parts of the West where Christianity has become a minority faith rather than the mainstream belief. It's a situation that's fraught both for Christians and our wider society, where the moral certainties that were the foundation of our institutions and laws are no longer held by the majority.
At this point of crisis for faith, God is Good for You shows us why Christianity is so vital for our personal and social well-being, and how modern Christians have never worked so hard to make the world a better place at a time when their faith has never been less valued. It carries a vital torch for Christianity in a way that's closely argued, warmly human, good humoured yet passionate, and, above all, convincing.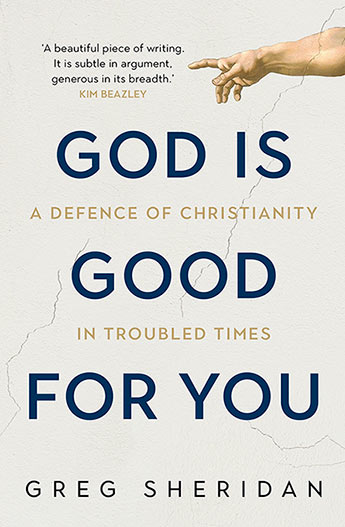 Interview I did with Vision Christian Radio Australia
Vision radio Q and A
REVIEW FEATURE
Authors depend on reviews so I help other authors out with reviews when I can so I have decided to feature a few occasionally in case you're interested. They are usually inexpensive and quick to read as ebooks on amazon.
Instead of the reviews this month, I have included an exciting opportunity for you with a feature called – BOOKS YOU MIGHT LIKE.
They are from other non fiction authors. Check it out now – https://storyoriginapp.com/to/RWP8CwX
Books on Yarrabah, Mapoon, William Cooper and de Quiros
The Dying Days of Segregation in Australia: Case Study Yarrabah– https://www.amazon.com/dp/B07GF864Q6/
White Woman Black Heart: Journey Home to Old Mapoon, A Memoir– https://www.amazon.com/dp-B07CCMV6CP/
White Australia Has A Black History: William Cooper and First Nations Peoples' Political Activism – https://www.amazon.com/dp/B07X1MYCDX/
William Cooper Gentle Warrior and The European Quest to Find Terra Australis Incognita:Quiros Torres and Janszoon – www.barbara-miller-books.com
Be blessed and happy reading!